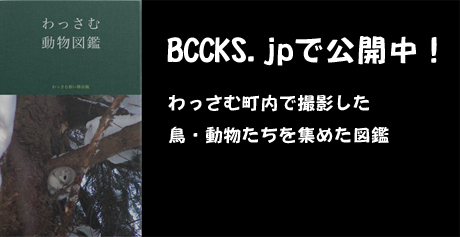 A precious illustrated book, in which you can entertain your eyes with the images of beautiful wild animals all photographed in Wassamu by Kazuki Kiriu since 2010 and onward. Kazuki is still adding new photos as he goes out in the field and finds any animal or bird that is not on this book yet. The book can be seen/read online, but if you wish to have the printed copy, you can also order it via BCCK.jp. Sorry it is only in Japanese language. If you wish to have the English version of this book, please contact us on our ninaitai.wassamu.net/. Thank you!
The author, Kazuki, is an amateur photographer, and has been collecting these photos while he has been studying about the animals on the internet and from books.
Photos have been taken by his own digital cameras, not by single lens reflex camera. The resolution and quality of the photos may not be perfectly adjusted, but we hope you enjoy the realistic sensation of the moments when they were taken!
The most original part of this book is that the author has written information only confirmed in Wassamu either by books or by the word of local people who live in this town.
The author has also witnessed far more different kinds of animals and birds, however, because he wanted the photos that were taken in Wassamu only. Therefore, the book contains less than what he has actually seen.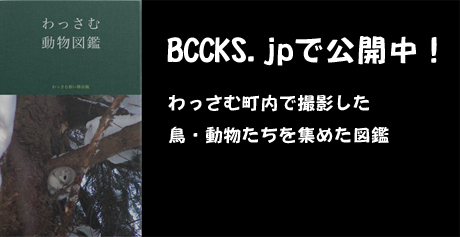 北海道の道北に位置する和寒町で2010年~2013年に筆者が撮影出来た野生動物を掲載した図鑑です。
専門家ではない素人である筆者が様々なホームページや書籍から知識を得ながら作成しました。
またカメラ等の機材も全て自前で、デジタル一眼レフカメラ等ではない普通のデジタルカメラで撮影した為、画質が荒かったりしていますが、そういう部分も自然の臨場感あふれる仕上がりになっているのが特徴です。
またこの図鑑を作成する上で一番意識した部分は、筆者自身が町内で確認した情報を必ず掲載している事です。
実際はもっと多くの種を町内で確認しているのですが、この図鑑に掲載されている写真は全て和寒町内で撮影されたものを採用している為、図鑑に掲載されている種が少なくなっています。